1976 Palm Beach
TZE166V100710
Reading Lights
I have always been bothered by the way the reading lights in the bedroom area of my GMC work. They just don't seem to be bright enough. I was especially bothered when one of the bulbs burned out (bulb is a #, Cinnabar Part #9425469) and I found that they are $15.75 each.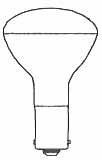 W1383 Bulb

Rather then pay that I thought I would just buy a replacement from an RV place like Camping World. Reading lights there I found to be about $35 and would more then likely not be any better than what I already have. Also, after taking one of my GMC's reading lights apart, I found them to be pretty well made, unlike the ones from the RV places that are probably made in China.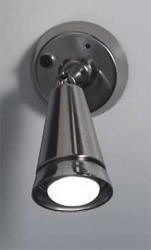 Camping World's
Brass Reading Light
Club Price $33.29
Reg $36.99
After looking at the 1383 bulb I wondered if I had something in my junk box that might work at least on a temporary basis. Bingo the first bulb I found (#1073) worked. Compared to the original it seems to put out the same amount of light and seems to not be any hotter. Maybe this will work.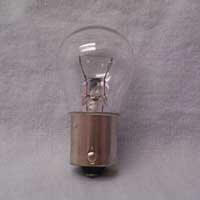 #1073 bulb, is less than $2.00
and is 12.8V 1.80A SV Bayonet Base
But wait there is more! I did a google search for 1383 bulbs and found that Camping World sells an Automotive Type 12V Bulb Ref. # 1383 Single Contact bulb for a Club Price of $2.69. Catalog Item # 19429. The picture on their website looks like the same bulb.
That still doesn't solve my bedroom lighting problem.
Page was last modified: 08/23/2006 07:59:32 AM