1976 Palm Beach
TZE166V100710
Photo Album
Tahquamenon Falls State Park - August 2001
8/26/01 6:33PM
message to the GMCnet:
Richard....Sooo was that your Palm Beach at the Lower Tahquamenon Falls parking lot Thursday? I went back to the campsite to get a pencil to leave a note and when I got back you were gone. We spent a great week camping up here in the UP. We are at Munising now. This is a good time to be here....not many people, nice and cool.
Ray
76 Eleganza II
That was me and here are a few pictures taken at the park:

Michael Brodhagen from Green Bay, Wisconsin and his 1977 Palm Beach. I met him and his family while camped at Taquomanon Falls - Tuesday, August 21, 2001

Mackinaw Bridge from the GMC

Where is Woodward and what's special about it?
For those of you that don't know, Woodward Avenue is located in South Eastern Michigan. It runs from Detroit, Northwest for 25 miles to the suburb of Pontiac. This road was named for a prominent Judge Augustus Woodward. Woodward Avenue is also considered Detroitís "Main Street." Henry Ford's factory that produced Model "T" automobiles was located on Woodward in Highland Park.

The General Motors Building (their World Headquarters) opened in 1921 within a few hundred feet of Woodward. In 1928 the Fox Theater opened on Woodward, the second largest theater in America.

In the early 1800's Woodward was extended 27 miles to Pontiac. Along the way travelers encountered toll booths, surfaces of 16-foot planks, cedar blocks, gravel, ruts, water-filled holes and of course lots of mud and horse droppings.

In 1908 the world's first mile of concrete was built on Woodward between Six mile and Seven mile. The entire 27-mile length of Woodward was paved in 1916 and in 1919 and three-color traffic lights first appeared.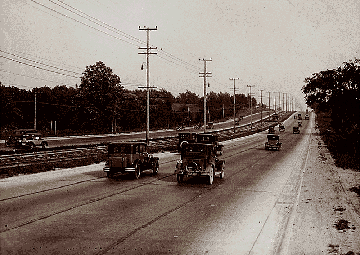 Woodward Avenue in 1931.

In the 50s and 60s, the eight lane boulevard section of suburban Woodward Avenue from "The Pole" (Royal Oak) to "Ted's " (Bloomfield Hills) was the place for kids to cruise. "The Pole" was the "Totem Pole Drive-in", a pioneer drive-in restaurant. "Ted's" Drive-in marked the northern end of the course at Square Lake Road just south of Pontiac. This was the route of choice for those of us that were into cruising, flirting, showing off a new or customized car or out for informal drag racing.
It was also back in the 50s and 60s when the major car companies were all still located in Detroit and were still promoting power and speed. During this time they supposedly would send out their newest and fastest models to see how well accepted they would be. This was sort of like a moving marketing "focus group." I know I saw a few cars out there that were not on the market yet.
Back then some people also thought of Woodward as the largest unorganized drag strip in the World. I read that in an article in a car magazine sometime during the early 1960s.
I am sure that more than a few GMC Motorhomes drove up and down Woodward for road testing. That would make sense because the plant that built all of the GMC Motorhomes was located very near Woodward in Pontiac.
Dream Cruise is biggest yet -- 1.5 million pack car corridor
"Neither the threat of thunderstorms nor worries about a crushing overload of cars and people put a speed bump under the rubber-tired juggernaut of the 7th annual Woodward Dream Cruise. Police estimated the crowd at 1.5 million -- a record". Detroit Free Press, August 19, 2001
We took our Palm Beach and did the dream cruise for the second year in a row. We found that it makes a great viewing platform to see the "30,000 muscle cars, street rods, custom, collector and special interest vehicles" and 1.5 million visitors that come here every year.
This event is about classic cars and vehicles. What could be more classic then a stock looking '76 Palm Beach complete with green shag carpeting. We got a lot of thumbs up as we took 2 1/2 hours to drive less than 8 miles.
The big advantage we had with the Palm Beach was the fact that we could see over all the cars. Plus we had all the comforts of home, including a well stocked refrigerator and air conditioning.
I spent my early years driving up and down Woodward Avenue. Back then I never figured I would be cruising Woodward in an antique motorhome almost 40 years later.
These were some of the scenes from our Palm Beach as we cruised Woodward.

Woodward goes right past the GMC Truck Plant. All GMC Motorhomes were built near here. This could be almost a homecoming for the old Palm Beach.
Two GMC Motorhomes we sighted during the cruise. I have no idea who they belong to.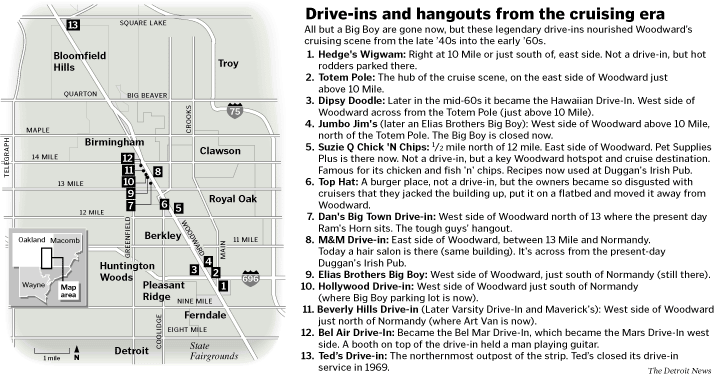 I grew up near 11 mile and Woodward, not far from #4 on the map. During the 60's there was no I75 or I696.
Our typical cruise would start at the Pole (Totem Pole #2) and we would drive Northwest and try and drive through all the drive-in restaurants all the way until we got to Ted's (#13). Some of these places were already closed and out of business before I was old enough to cruise, but I can remember driving by most of them with my parents. Sometimes when it was very busy at certain drive-ins they would have security guards wave us off. At Ted's we would turn around and head South again. We would do this a couple of times a night.
We would look for fast cars and good looking girls. We normally would be driving in some kids parent's car and therefore there was no way that we could win a race, but it was fun to see the other cars race. And race they did. Sometimes we would even meet girls. That was the high light of the night.
I can remember the proper protocol for cruising through a drive-in. First you had to have your headlights off and your parking lights on. Do today's cars have parking lights? Then you rolled down all the windows if you had a hard top, including the back windows. Hardtops and convertibles were in. If you were unfortunately enough to have parents that thought that a sedan (had the center pillar) was in and that was what you had to drive, you would try to drive with a friend that had a cooler car. You would sit as low in the car as you could as you very slowly drove through the parking lot of the drive-in. You tried to act as casual as you could. If you were lucky enough to find a empty space, you would casually back in. That way you could watch the continuous line of incoming cruising cars.
My favorite place was the Pole. When I went to the Pole, if I had the money, I would buy a Big Chief, fries and a coke. A Big Chief was a double Decker hamburger with special sauce (I think it was 1000 Island Dressing), lettuce, cheese and tomatoes. Sort of like a much improved version of a Big Mac. I seem to recall a Big Chief cost about 50 cents. It wasn't every time I went to the Pole that I could afford 50 cents.
I was lucky that in 1964 my brother let me use his 1963 Chevrolet Impala convertible while he was away for almost a year in the Army. It was red with a black interior. I had no problem driving that up and down Woodward. Now I drive a Ford Explorer and GMC Motorhome and he drives a 2002 Mustang convertible. I wish he would join the Army again!
Times have changed. Now the kids cruise the local shopping malls. They don't know what they missed!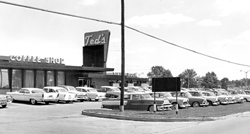 Charles V. Tines / The Detroit News


Ted's Drive-in, seen in 1958, was the northernmost stop on Woodward. It was my experience that Ted's was where all the rich kids from Birmingham and Bloomfield Hills would hang out.

Note the dual Garmin 430 GPS installation, which along with our S-TEC autopilot, really simplifies navigation and IFR flight.

I've owned this airplane since 1986 with 4 other pilots.

Picture taken in Lexington, Kentucky where we recently visited my wife's sister.

Dumping at my
neighbor's
dump station.
A Recent "Very Mini-Rally" Held in My Neighbors Driveway
My neighbor likes
for people to think his
coach is from Hawaii.
Low Resolution Pictures taken with my video camera
Forest City, Mouse Nest Remains and Bathroom Skylight
Picture of my GMC taken at the GMCMI rally in Forest City.

Debris from the mouse

nest that was sucked into

the heater blower?

Where the blower is installed in the and the probable location of the nest.

The previous owner removed this Hammond vent fan from the living area and installed it in the bath.
During a trip the dash air began to vibrate. I feared the A/C's compressor was going bad. Later I pulled the blower hoping that the problem was a bad motor. What I found was the contents of a mouse nest in the blower. Or maybe it was a squirrel's nest since this is a squirrel cage blower.
Gutted Coach - Summer 1999
| | | | |
| --- | --- | --- | --- |
| | | | |
| Here's a mess of wires that include 100BaseT LAN, speaker, AC power and CATV and telephone cable. | My wife wondered if I would ever get this back together again. She said it looked so nice before you started the remodeling. | A view where the passenger seat is usually located. The blue tube is for AC power for the TV. There is an outlet under the dash heater/air conditioning unit. | A view rear, showing the junk overhead. More views of the wiring. I tried to anticipate any and all future needs and still blew it because I could have used more DC power. |
This was the interior of my coach when I painted all the plastic trim, front and rear end caps and installed a new headliner. My wife never thought that I'd get it back together.
| | | | |
| --- | --- | --- | --- |
| | | | |
| I made brackets out of aluminum angles. I attached a plywood frame to these brackets. | The plywood also serves as a speaker enclosure. | Yes there is adequate room for low profile speakers. I bought them from the Crutchfield catalog. There is almost 1 5/8" of room up there. | This is the finished product. They work very well I think and are not obtrusive. I painted the speaker grills to match the color of the headliner. |
Page was last modified: 06/29/2007 10:04:28 AM